Childhood Basketball Buddies Reconnect With Dramatic Portrait of RBG
San Diego, CA - As you walk into the new Zalkin Law Firm offices in San Diego, you are greeted by a serious but bold painting of Supreme Court Justice Ruth Bader Ginsberg (RBG). RBG's thoughtful face looks over the Zalkin conference room where the firm's attorneys often confer with clients who have been victims of discrimination and sexual abuse.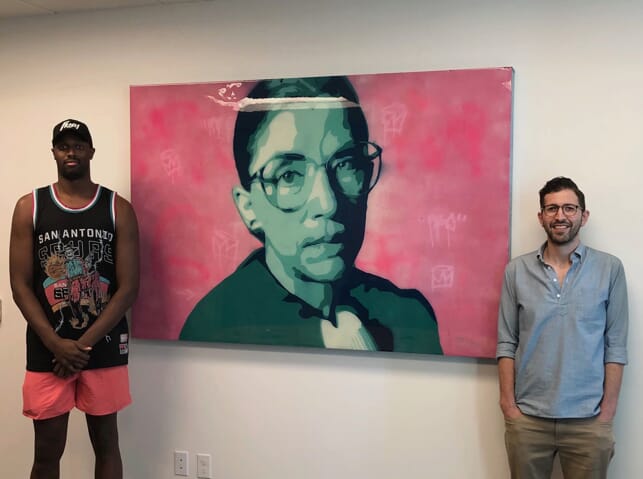 "Having this dramatic image of RBG looking over our office is meaningful to all of us because of her lifelong struggle to fight discrimination in her legal career," said Alex Zalkin, attorney at the Zalkin Law Firm. "RBG is an inspiration to our legal team as we seek justice for our clients."
Alex sought out his longtime friend, Rod Benson, (IG: @zsorryon | twitter: @boomtho) to paint this unique artwork for the firm's offices. Rod and Alex grew up together, playing basketball for Torrey Pines High School, and the San Diego Cougars club team. After high school, Rod went on to play basketball at UC Berkeley and then became a professional basketball player, with stints all over the world, including in France and Korea. Alex and Rod remained close friends over the years while Alex studied at UCLA and then USC Law School.
After Rod retired from professional basketball, he re-discovered his love for art and has become an accomplished artist with works on display in several Los Angeles art galleries. His unique portraits are in a bold, dramatic, and colorful street art style.
When Alex asked Rod to do an RBG portrait he took on the project with enthusiasm. Rod did his own research on Ginsburg and embedded his favorite quote within the work: "My dissenting opinions, like my briefs, are intended to persuade. And sometimes one must be forceful about saying how wrong the Court's decision is."
The entire team at the Zalkin Law Firm is looking forward to many years of working under RBG's inspiring eyes as they fight for justice for their clients. Thanks, Rod for this amazing work of art!
Here a few photos of other works by Rod: